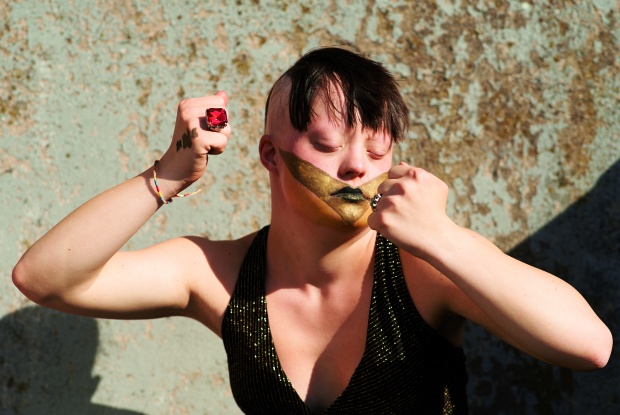 TOUCHDOWN-Exhibition
The TOUCHDOWN exhibition was staged during the years 2016 to 2018 in three different locations. It showed how adults with Down syndrome see the world.
The TOUCHDOWN exhibition was all about Down syndrome.
It followed the trails of people with Down syndrome.
In art.
In science.
In movies and in the theatre.
In society.
At different times in history.
And in different countries.
It told the story of how people with Down syndrome live.
How they used to live.
And how they want to live in the future.
The exhibition was made by people with and without Down syndrome.
They developed and showed the materials as a team.
They spoke to people about the exhibition.
For example, during tours of the exhibition.
The exhibition wanted to ask questions.
About differences and similarities.
About diversity.
And how people with and without a disability can have a good life together.
The exhibition was created in collaboration with the research project
TOUCHDOWN 21.

There were "tandem tours" through the TOUCHDOWN exhibition.
That means tours were led in tandem by someone with and someone without Down syndrome.
The TOUCHDOWN exhibition showed in 3 different places:
The Bundeskunsthalle in Bonn from 29th October 2017 to 12th March 2017.
And the KulturAmbulanz in Bremen from 14th May 2017 to 27th August 2017.
The last station was at the Zentrum Paul Klee in Bern.
The exhibition was there from the 23rd January 2018 to the 13th May 2018.

81, 400 people saw the exhibition over the 3 locations:
35,103 in Bonn.
3,280 in Bremen.
And 43,017 in Bern.

The TOUCHDOWN exhibition had sponsors.
Aktion Mensch and the Kämpgen-Stiftung both gave money.
Money was donated for the participative relaying of the exhibition at the Bonn location.
That means: Money was there so that people with and people without Down syndrome could lead tours through the exhibition together.
So they knew all that they needed to know, to be able to do that.
So they could learn some new things.
And so they could participate in the actual exhibition.
For that, we say thank you.

The opening of the exhibition in Bonn had an accompanying events program.
This program ran for a whole weekend.
It was called TOUCHDOWN live!
Many artist were a part of it.
Including people with Down syndrome from many different countries.
Here you can read about this events program.
MerkenMerkenMerkenMerken