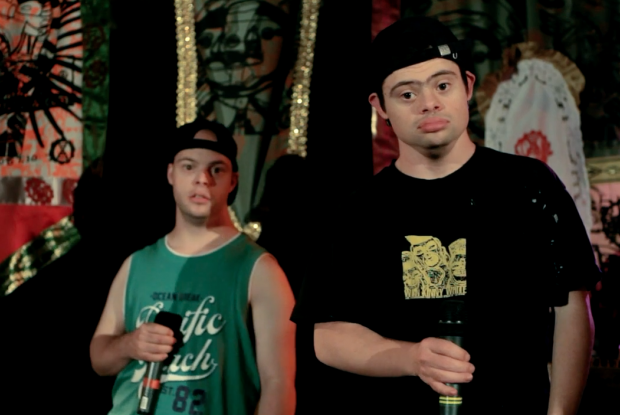 Event days TOUCHDOWN live!
Much was happening in Bonn during the opening weekend of the exhibition. There was a festival at the Bundeskunsthalle with a wide array of different events.
The weekend the exhibition opened many people with Down syndrome came to Bonn "live".
Some were famous.
Famous, for example, as singers.
Or as actors.
Or as dancers.
Or as artists.
Or as a guest on a TV show.
Other people with Down syndrome were experts in certain fields.
For example:
Someone writes a blog.
Someone has a black belt in judo.
Or someone uses his voice to speak texts for a movie.
Many of these people came to Bonn.
They wanted to show what they are especially good at to all the people that were interested.
In fact, live.
That's why the opening weekend was called "TOUCHDOWN live".
28th October 2016
We kicked-off with the opening of the TOUCHDOWN exhibition on Friday evening.
There was a TOUCHDOWN opening party.
There was something to eat and drink.
There were DJs with and without Down syndrome, who played music for dancing.
And a Hip Hop band with two cool vocalists that have Down syndrome performed.
Here a little taster:
Programme for the 28th October 2016
11:00 am - Press conference for the TOUCHDOWN exhibition
11.45 am - Award presentation "Land der Ideen (Land of Ideas)", Recognition of the TOUCHDOWN 21 project as having a special place in the land of ideas 2016
7:00 pm Opening of TOUCHDOWN. An exhibition with and about people with Down syndrome
Speakers:
Rein Wolfs, Intendant of the Bundeskunsthalle
Julia Bertmann, Advisory Board of the research project TOUCHDOWN 21 and of the TOUCHDOWN exhibition
Katja de Bragança, TOUCHDOWN 21 project leader and curator of the TOUCHDOWN exhibition
The speeches didn't go for longer than 20 minutes in total.

7:30 pm - Performance by the Belgian Hip Hop Band "The Choolers Division"
8:00 pm - Democratic Disco with DJ Edgar
29th October 2016
It kept going on Saturday.
There was a program all day long.
And in the evening, too.
People with Down syndrome from different countries did shows, told stories, explained things, and read aloud.
There were short dance and theatre performances, workshops and lectures.
And it was possible to meet and get talking with new people.
There was a full-length theatre performance on Saturday evening.
Performed by actors with and without Down syndrome.
And for those who after all that, still were not tired, there was a late night program.
Program for the 29th of October 2016
11:00am to 06:00 - Open floor in the foyer:
Art workshop with Peter Kurenbach
A durational performance with and by Alain Meert
Knitting class with Regina Heinen
Photo event with Britt Schilling
11:00 am to 7:00 pm - Chilling out in Lounge 21, a retreat and meeting place only for people with Down syndrome and their supports
11:00 am - Dance performance by tanz_bar Bremen in the foyer: "Rosa sieht rot" ("Rosa sees red")
11:00 am - Ohrenkuss tour through the TOUCHDOWN exhibition: "My favourite exhibit"
11.30 am - Theatre performance by the Hijinx Theatre: Snooks Brothers' Bank in the media art space
12.30 pm - Interview series 'In conversation': Mirco Kuball, actor and "Lebens-Künstler" in the foyer
1.30 pm - Ohrenkuss reading journey to Mongolia, with live music by Anton Berman in the Ohrenkuss yurt in the museum's square.
1.30 pm - Theatre performance by 'Compagnie Création Ephémère', "Didascalies" in the foyer
12.30 pm - Interview series 'In conversation': Natalija Vladisavljevic, a Poet from Serbia
2:00 pm - Theatre performance by the Hijinx Theatre: Snooks Brothers' Bank in the media art space
3:00 pm- Dance performance by Julia Häusermann: Das ist Tanz (This is dance) in the foyer
3:30 pm- Interview series 'In conversation': Sarah Gordy, UK TV-performer, dancer and model
4:00 pm- Theatre performance by the Hijinx Theatre: Snooks Brothers' Bank in the media art space
4:30 pm- Dance performance by tanz_bar Bremen in the foyer: "Rosa sieht rot" ("Rosa sees red")
4:40 pm- Ohrenkuss reading journey to Mongolia, with live music by Anton Berman in the Ohrenkuss yurt in the museum's square
5:00 pm- Interview series 'In conversation': Carina Kühne, Blogger and actress
5:45 pm- Theatre performance by 'Compagnie Création Ephémère', "Didascalies" in the foyer
5:30 pm- Screening of the diary movies by Dejan Suljan from Serbia, in the Ohrenkuss yurt in the museum's square
7:00 pm- Theater RambaZamba "Am liebsten zu dritt" in the forum, Tickets via the Bundeskunsthalle ticket booth or Bonn Ticket
Workshops - only for people with Down syndrome:
11:00 am to 12:30 pm, and 1:00 pm to 2:30 pm - Skype workshop with the PIKSL-Labor in the conference space
12:00 pm to 12:45 pm - Judo workshop with Victor Gdowczok, the worlds first DAN bearer (martial arts rank) with Down syndrome, in the foyer
1:00 pm to 5:00 pm - Music workshop with the Choolers Academy at the BaseCamp Bonn, Address: In der Raste 1, 53129 Bonn
1:30 pm to 3:30 pm, and 4:00 pm to 6:00 pm - Ohrenkuss writers workshop on the topic "Future" in the workshop space
3:30 pm to 5:30 pm - Make-up workshop in the conference space
30th of October 2016
On Sunday all who wanted to, could meet again for brunch.
from 9.00 am - Family breakfast for people with Down syndrome and their families at the BaseCamp Bonn
10.00 am - Hip Hop performance by The Choolers Division, together with the workshop participants from the day before

MerkenMerken
MerkenMerkenMerkenMerkenMerkenMerkenMerkenMerkenMerkenMerken
MerkenMerken
MerkenMerkenMerkenMerkenMerkenMerkenMerkenMerken
MerkenMerkenMerkenMerken
MerkenMerkenMerkenMerken
MerkenMerkenMerkenMerken