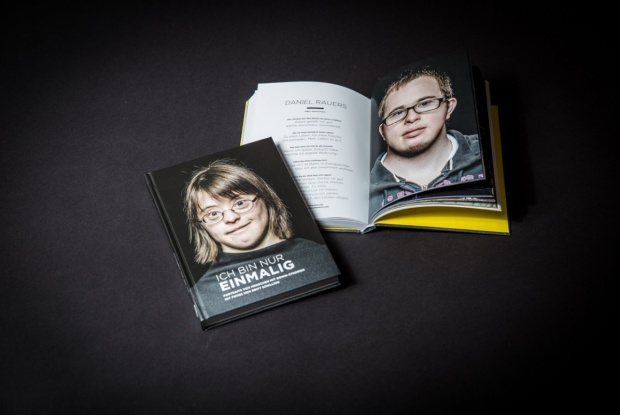 Book
I AM JUST UNIQUE.
Portraits of people with Down syndrome with photos by Britt Schilling

This exceptional book features 104 people with Down syndrome and their answers to questions.
They are aged between 60 years old, and 6 months old.
They have revealed what they have to say to the world.

What is important to you in life?
Coffee and cake. My brother.
(Frank Risch, born 1962)

Do you have a favorite place?
Caravan.
(Anna Karthaus, born 2007)

What do you want to tell the world about you?
People should not treat me like a small child. Even if I have Down syndrome. I am an adult.
(Julia Bertmann, born 1981)
On the 29th of October 2016, photographer Britt Schilling who is based in Freiburg, took 104 portraits of people with Down syndrome. The photos were taken in Bonn.
You can find her pictures and the questionaires in this book.

224 Pages, Hardcover, limited edition.
Format: 15x21cm
Price: 19,80 Euro plus postage

ISBN: 978-3-9818595-1-5
Order at www.ohrenkuss.de/kiosk.