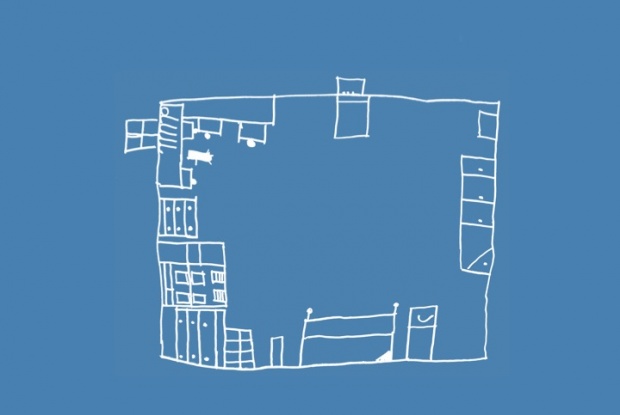 Living
Many people ask themselves:
How do People with Down syndrome live?
Do they live with their families?
Can they live alone?
Do they need support to do so?
How do people with Down syndrome live?
The answers to that question vary a lot.
Some people with Down syndrome live alone in an apartment.
They need support for that.
From a support person.
Or a family member.
What kind of support someone needs varies.
For example: To see a doctor.
Or when official mail arrives.
Going shopping.
Or dealing with the bank.
That's the case for Julian Göpel.
He is now 31 years old and he lives alone.
He recounts:
"I have to manage the whole household alone, with all the bits and pieces.
With kitchen, living-room, cleaning the bathroom and so on...
You have to take the rubbish out independently.
There are many rules.
What rules I need: I need to be in bed on time.
So one can get up in time!
There are sooo many rules...
That I have to decide on my own!"
Daniel Rauers still lives with his family.
He is now 22 years old.
For the future he has the wish to live alone.
He says:
"Would like to live in Cologne, alone.
I can manage that."
Many people first have to practice living on their own.
They have to learn: What is important when I want to live on my own?
What do I need to take care of?
When they get support for that it can work well.
"Living should be beautiful"
that is Martin Weser's wish.
He is now 30 years old.
For now he lives with his family.
But he has already practiced for a future of living on his own.
He writes:
"I often stayed home alone when my parents went on holidays then I am with my brother and we managed all alone and someday later then I can live on my own without parents without brother."
Some people with Down syndrome live with their families.
Some parents believe they can care best for the person with Down syndrome.
They know him or her best.
Some people with Down syndrome like that.
Others would rather move out of home when they are adults.
Marley Thelen is now 21 years old.
She lives with her family.
And that shall be like that in the future too.
She writes:
"And I don't want to live alone, because I like living with my parents."
Some people with Down syndrome live in a share-house.
Or a managed residential home.
Together with other people with or without disabilities.
Often there are support people.
Some people prefer living together with others.
Others prefer to live alone.
Antonio Nodal is now 40 years old.
He lives in a residential group called Wohn-Gruppe.
He reports:
"I live in flat.
All groups with me down there.
All groups together with me.
At least 20 people live there. And all are there with me. I like that."
Aladdin Detlefsen is now 30 years old.
He wishes to live in a managed residential home.
The best would be an Ohrenkuss share-house. He dictates:
"My wish is to go to a home.
My dream is being put in a home.
That has several support people.
The support people can do everything.
A nice outing."
The best would be to live with his Ohrenkuss colleagues:
"With Ohrenkuss together to make a share-house.
My room should be with many together.
Doing something.
Anything.
Why not?
If they feel like it.
But first get to know each other.
And I want to cook sometimes and playing games, going outside, on an outing.
Making a disco.
Bit of company.
Romance and staying cool."
Romance and outings, yes but:
"When I get home it should be quiet."
Anna-Lisa Plettenberg has the wish to see the stars from her apartment.
She writes:
"I would like to have an apartment.
I would like a big apartment with a terrace with a garden and I would like a rocking chair.
You can reach for the stars sometime with your wishes.
I wish that I can always look at the stars."
The needs for living are different for every person.
No matter if the person has Down syndrome or not.
Everybody has to discover for themselves how and where he or she would prefer to live.
And every person needs support to make their wishes reality.