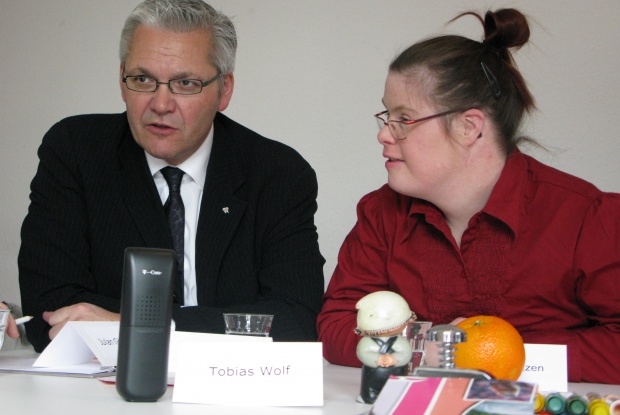 Politics
For people with Down syndrome it is the same as for people without.
Some are interested in politics.
Others are not.

Some people with Down syndrome want to know more about politics.
They want to understand -
What is important to know when you go to vote?
How does Europe work?
And what exactly is the Bundestag (German Parliament)?
Julia Bertmann thinks it is important be informed politically.
She writes:
"When I vote, I can determine politics."
For Julian Göpel this is also a topic of interest.
He writes:
"Europe.
Because for me the topic still is - has to do with inclusion.
Yes, I am political."
Johanna von Schönfeld also informs herself about Europe.
She writes:
"I know something of Europe – well, that is self evident.
Because I learned through my time at school in geography, it was implemented as a topic as a school class.
Because of that, all us school participants were influenced.
Who of all belongs to Europe, that is, US Europeans.
That is why Europe is so vital.
We Europeans as community minded, together create a community."
People with Down Syndrome can learn and understand.
There are some things that make it easier for them to understand.
For example when a text on politics is written in plain or easy language.
Or when a person explaining something speaks slowly.
When important things get repeated.
But not just people with Down Syndrome need to learn something about politics.
Many politicians in Germany when they make political decisions don't even consider people living with a dissability.
They also overlook the needs of people with learning difficulties.
Such people need to learn how it is possible to work on these topics together with others.