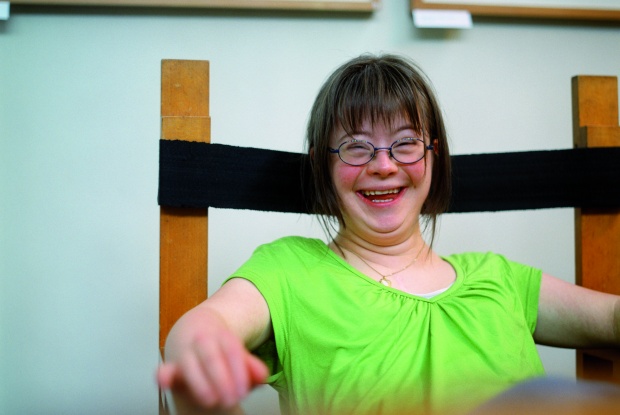 Happiness
What makes people with Down syndrome happy?
Chips?
Cheesecake?
Sleeping-in?
Love?
Julia Bertmann is happy with her family.
She writes:
"I'm really lucky with my parents, with my sister and with my job.
I am always cheerful because I am happy."
Just one thing is missing for her complete happiness:
"For my real joy I am only missing one thing:
I'm looking for a nice boyfriend."
Dominic Edler writes about his happiness:
"When am I happy?
When someone is nice to me, maybe a nice girl with beautiful eyes.
When someone buys me a coke and other presents.
When someone could say a nice word to me or praise.
Happiness, one is free as a bird, that can fly in the sky.
Happiness gives wings, so you can fly.
The heart is full with happiness, you are in love with yourself.
You get beautiful eyes."
This is what Christiane Grieb needs for her happiness:
"Luckily I have my family and am happy.
I have a good life, because it is nice and cosy - with my family and in the residential facility.
Actually I am missing a boyfriend.
To feel well, I choose playing the flute and acting.
I still like painting a lot and I still like going to my painting teacher near my house.
Also, I always like cuddles and going for cappuccinos.
I like having a women's day with my mum, and going for a swim.
When dad is well again I would like to go bike riding again."
When Chrisitane Grieb receives support, to make her own decisions, that also makes her very happy.
She does not want to feel powerless.
She writes:
"I already can make decisions, but I still need support with that.
When I receive good support, I also get help for my stuff.
Support has to be good, that way my wish is fulfilled and is well organised.
I have little authority, because I often don't dare to say anything.
I feel powerless and not powerless.
I need a lot of protection, because then I feel secure."
Verena Günnel has many hobbies that make her happy.
She writes:
"When I feel very well, am satisfied, then I am also happy.
Able to laugh a lot, and be funny.
Yesterday when I went to the movies with my mother, I was so very happy, because it was such a beautiful day.
I like laying in the sun.
That's so nice and warm.
But my absolute favorite is going to work with my lovely colleagues.
Going to the movies, listening to music and singing along, dancing zumba, drawing mandalas and writing."
Patrick Hangl wrote by hand about Happiness:
"My happiness
For me happiness means hope and trust.
I was already very happy, with my whole heart.
When I laugh, I am happy.
I have been very satisfied with my happiness.
My nature is beautiful and the world is ruled by party.
Throwing party, and describing songs from the 40 Biggest Party Hits, that in my free time makes me happy."
Judith Klier is happy on holidays - but not only on holidays.
She writes:
"To be happy forever.
Happiness in life means a lot to me and that one is happy with the family in life, that you can handle luck, and for that one has something.
My holidays I was happy, because I just need it, in life on holidays, that my friends can become happy. There is always something beautiful in the world, to be happy about.
The most beautiful thing is my god-child, because she is a happy child to me, and that means a lot to me, because I am happy, because it means a lot to me about her being happy, what there is in life.
I do a lot in my free time because I always something going on. Sometimes sport or I am just in Munich or at a birthday or going away, to be the world sometimes, because one can also be happy with that sometimes, when sometimes to be wherever to be there, when my family needs me, that makes me happy.
I hope it's like that forever."
Carina Kühne is happy to always have someone to talk to.
She writes:
"I have a boyfriend, who loves me, and a family that is always there for me.
When I have problems, I am never alone and always have someone to talk to."
But there are more things that make her happy:
"Happiness to me is that my wishes or dreams come true, that I am happy with work and that I may sometimes experience something nice.
When I am healthy, have enough to eat and drink and to wear, then I am happy.
And there is also a pet.
A German Sheppard puppy named Berry."
He also makes Carina Kühne happy:
"I was very happy on Friday the 17th of May 2013 just before Pentecost.
My brother Tobias and I picked up and took our little, sweet, white German Sheppard puppy Berry to our house.
We had already chosen him a while before, and also visited him a few times.
It was a very special feeling, to take hold of him in my arms, to play with him, cuddle and go for walks."
Maximilian Kurth is happily in love.
He dictates:
"My girlfriend is a joy.
Because I have a heart for her and she has a heart for me."
His theatre group Blaumeier in Bremen also makes him happy.
He dictates:
"Happiness is for me that I can perform with my Blaumeier-colleagues.
There I got to celebrate for the first time in my life, a stage anniversary.
With my Blaumeier colleagues and my girlfriend Dorothe.
That was my first performance.
That piece is all about Orpheus and Eurydice.
Eurydice was killed by the poisonous snake, and this poisonous snake wanted that Eurydice would go into the underworld and stay there.
And as Orpheus I have to free her.
I think it's great, because my girlfriend has to play the role Eurydice.
So, I save my girlfriend Dorothe."
Daniel Rauers is completely happy.
He dictates why:
"I have a good life.
I live with my family and that's how it should stay.
That is my happiness.
I also have a great job.
In a coffee bar.
When I do my job well, I'm happy.
And the others are too."
Riding a scooter makes Ruth Schilling happy.
She writes:
"THE HORSESHOES BRING LUCK.
THAT I AM HAPPY.
I FEEL HAPPY WHEN I SWIM.
AT MY CONFIRMATION AT THE CHURCH – THEN I WAS HAPPY.
SWIMMING IS NICE AND RIDING THE SCOOTER.
SWIMMING, RIDING THE SCOOTER, READING."
Johanna von Schönfeld likes it, to write on the topic of happiness:
"To write on the topic of happiness, to be allowed to note, these are my real true definitions to honesty that have become several lines, because I am in suuuuuch a stunningly good mood.
The topic is overly close to my heart.
I would really hope for myself that I might miss the total bad luck directly, because I am very total-happy."
She is especially happy when there is a party.
She writes:
"At each party I am almost always total-happy, cause I am a party girl.When the clubs are busy, I become happy.
I like to let myself drift and totally dance off.
My heart dances and then it blooms."
And spending time with people close to her makes her happy, too.
She writes:
"I'm a family and friendship type of person, and then I am so fully totally happy, because I really love the conversations and the listening.
That brings for me in any case, real happiness.
I'm happy when that person has time with me."
Maria Trojer is happy when she writes:
"Writing brings pleasure.
I am good at writing, and its all by hand.
Writing is my talent.
Because with it one gets joy.
Now I like writing poems.
Because the writing is my hobby.
At my desk, there I write and am happy."
The topic Happiness inspired her to write a poem:
The fortune.
Sometimes I am fortunate.
That fortune, one should have.
Happiness means a truth in itself.
People want to be happy.
Searching for happiness, sometimes even in alcohol or even at the casino they loose their money.
That's how happiness hides itself, in a block of chocolate.
Verena Elisabeth Turin knows: There are many different kinds of fortune and happiness.
She writes:
"For me happiness is when I am allowed to see my boyfriend.
It's fortunate too when someone is in danger and still keeps on living.
Or if a car hits me but my boyfriend then protects me from that car.
Because he held me tight and pulled me back from the road again.
Happiness is too, when a broken leg heals again.
There are so many different kinds of happiness."
For Martin Weser happiness means to reach for the stars.
He writes:
"Give your imagination free reign!
Step on the bike pedal up the hill then I have free reign.
That should be nice.
There are many free reigns - that someone has wishes.
Going into the forest to find mushrooms.
That is adventurous the free reign.
There with a full basket we're happy enjoying the sun of today.
We are relaxed and breathe into the nose and out the mouth and hear how the wind goes into the nose. That all of that has to do with one's free reign, one has to enjoy that too.
Then we stay relaxed.
That should be nice.
That feels good, you can also hear the birds sing.
You may sometimes also with your wishes reach for the stars."