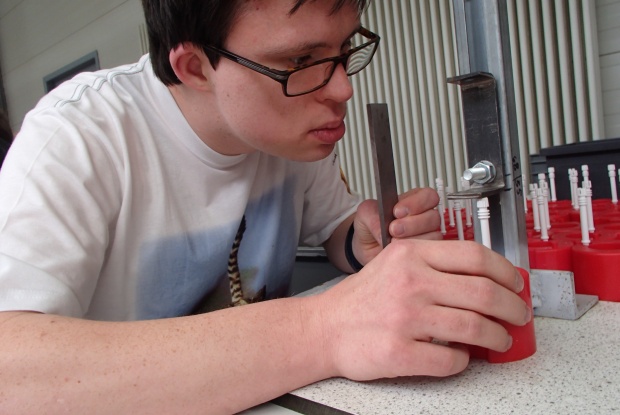 Work
What work do people with Down syndrome do?
Can they become a nurse?
Actor?
Swimming pool life guard?
Writer?
All authors that work for Ohrenkuss are journalists - a dream job for many people.
Also for Dominik Edler, who as long distance correspondent regularly sends text into the office.
He writes:
"My dream job is to become a journalist, that is my dream job.
What happens in the world, either politics and world affairs, I need to write a lot, of the hot spots in the world.
Or the events from Germany and Europe / sport events."
The job has a practical side as well:
"As a journalist I can also work from home and do the housework looking after the children, if once my girlfriend also can have children sometimes."
But the authors are not just that.
Apart from their work for Ohrenkuss they are also janitor assistants, working in aged care, in hotels or in a workshop.
But are these their dream jobs?
We've made specific enquiries.
Julian Göpel works as a janitor's assistant.
His job is very important to him.
He writes:
"I work with sweat and need to earn money."
Julia Bertmann cares a lot about her job, too.
She writes:
"I like working.
No job equals zero!"
Paul Spitzeck wants to work in the movies:
"My dream job is: making a movie.
I am the director of Ohrenkuss.
And the film is: A person comes to Ohrenkuss, and comes here for an appointment, and writes or says, someone at a laptop writes, and an Appy Vent [Happy End] to finish."
Verena Günnel already has a Happy End in her working life:
She has found her dream job and is working there.
"I have a dream job, too, the right job for me.
I work in the Protestant Women's Relief nursing home.
I've become a housekeeping assistant."
Antonio Nodal would like to explore the sky:
"I have dream.
Dream is called: a big moon, stars, I know my way around.
I love stars."
Veronika Hammel likes her job and the opportunity for professional development. She writes:
"My work is nice, because I am needed.
And I earn something.
And I get holidays and do overtime.
I do further training about fire safety and hygiene."
Verena Elisabeth Turin, long distance correspondent from Italy can't possibly decide for a job:
"My name is Verena Elisabeth Turin.
I am 32 years old.
I have so many dream jobs.
For example: singer, author, writer, celebrity swimmer, dancer in a music band, boss in a bookshop, pianist, conductor.
And also masseuse.
I love being on stage.
The view of the stage with the colorful spotlights draws me in very very strongly pulls me in.
I like the colorful spotlights a lot.
I am a fan of the band Bergfeuer.
I just wanted to become a pianist because I am a fan of Franz Liszt, the classical composer and the English singer Elton John.
Sometimes I would like to read a lot of books.
If I had more time I'd like to write many, many reports and collect.
The work of a conductor fascinates me strongly.
In the summer I massage my Granma's back with sunscreen when she goes swimming.
I love the water very strongly and I like swimming a lot. I very much admire the professional swimmers from the TV.
And that's why I want to become a pro swimmer.
Or an intern in a hospital, to take the food to every room."
Martin Weser works in a workshop.
He explains to us what he does there exactly:
"My work is always nice.
I like doing my work, is always neat.
I do a lot: I need to measure the red float for the toilet tank.
That is my dream job because it is fun.
I like to drive to the firm.
I can do everything at work and I am very happy there.
My dream job is going to work."
Nevertheless he is open to alternatives:
"I would do a lot in my dream job, for example to become a writer and I want to become a pilot, when I am big, to be able to fly across the Alps and Mediterranean Sea with the plane.
I can still do many things: chimney sweeper and mail-man, they also deliver papers and letters.
All that I want to do for a dream job.
And much more."
Dorothee Reumann's work has pros and cons:
"Cutting fruit and veg, salad bar there I work.
Good means good work, bad is calculating and a lot of standing."
She completed her education.
"'Chance 24' I get training: Gastrominio.
Is already done."
She has mixed feelings regarding her later life as retiree:
"Unemployed, I stay at home.
That is much better.
And woe and crying.
Firstly sad, liking going to work, and staying home, I also don't know, unemployed is silly."
And the conclusion?
It doesn't matter if you are a writer, a janitor's assistant, kitchen helper or a doctor - the important thing is to feel good in your dream job.
Then there can also be an Appy Vent!