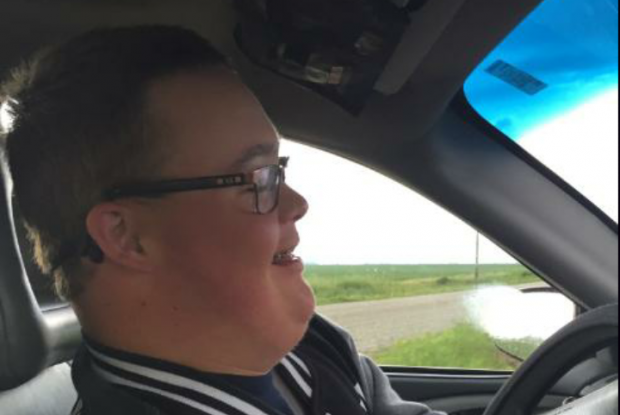 21.06.2016
Ohrenkuss loves Michael Biermann
Michael Biermann lives in Iowa. He passed his driving license in June. We made an interview with him via E-Mail.
Dear TOUCHDOWN 21 team,
Michael and I sat down this morning and answered the following questions. I transcribed what he told me to write.
I'm attaching a very recent photo of Michael driving. The photo was taken when he and his sister and friends went out for dinner after he got his license. It was the first time he drove his sister without my husband and I along to monitor so you can see he's pretty happy. He's been driving independently ever since he got his license.
Please let us know if we can be of any more help. We are eager to see what you put together and will look forward to hearing more from you!
Best regards,
Linda and Michael Biermann
When were you born?
I was born in Iowa in the US.
Where do you come from?
I come from Tripoli, Iowa which is a small farming town.
Do you still go to school?
I am a senior in high school and will graduate in a year. After that I plan to go to a community college to take agriculture classes to help me with farming on our 5-generation farm.
Have you already graduated?
No.
What kind of school do you go to?
I go to public school but was completely included like all the other kids. I played sports and took the same classes. I was the only kid with Down syndrome in my school or any of the schools around.
When did you pass your drivers license?
I passed in early June.
How did you study for your drivers license?
I had a learners permit for three years so I could drive with an adult to learn to drive. I never took drivers education classes because the book was very big and a lot of reading. The teachers couldn't change the lessons so I could learn it better so we decided I would not take the class but would learn on the farm to drive. My parents let me drive a lot. In the US, if you don't take drivers education, when you are 18 years if you have a learners permit, you can drive for the driving examiner. If you pass that driving test, you get your license. I tried driving for the driving examiner four times total. The first three times I was too nervous and scared and made too many mistakes to pass. My hands were shaking. I was nervous because it meant so much to me to be able to have my license. Having my license meant I would have freedom to go the places I want to go and go the places I need to go with college. I never wanted to give up. I wanted to keep trying. Finally, the last time, I relaxed and passed the test. Before the last test I believed I would pass. I went to the store before and bought donuts to share with my friends to celebrate because I knew I was going to pass. On the last test I only missed one.
I started learning to drive when I was very small. My parents bought me a battery-powered John Deere Gator to drive around our farm when I was about 4 years old. They thought it would help me understand about driving and wanted my brain to start understanding it when I was really small. I ran into a lot of things on the farm at first. But then I started to get better at driving. When I got too big for the toy Gator, my dad got me a Kawasaki Mule which is gas powered and goes faster. I ran into a couple things with that on the farm because it went faster than the Gator. With practice I got much better. My dad got a bigger Honda Pioneer for me to drive around the farm and help with farm work. Sometimes my dad would ask me to drive his pick-up on farming jobs. I needed to pick him up when he drove tractors to our farms. Sometimes I even had to pull trailers. I knew I wanted to get my license soon so I could help more on the farm. Finally, I got my license. Now I can drive myself to my school, to shopping, to dinner with friends, to visit family and friends, to help with farming. My family supported me. They told me I could do it. My friends told me I could do it and to keep trying. People in my town encouraged me to keep trying.
I knew I would someday have my license so I used my own money to buy a car for myself. I practiced driving that car with my learners permit. I drove to and from school with my mom riding along.

I had to take a written test for the learners permit and I had to memorize a lot of driving questions. I took the permit test two times. The first time it was hard to read but the second time a lady at the driver's license office offered to read the test to me. I answered the questions and passed the test. Both tests were a little hard but I used flash cards to memorize the questions for the written test. I practiced driving for the driving test. Mostly it was just scary because I wanted to pass. My friends were driving and I wanted to be driving too. My friends encouraged me.

The easiest part was having people supporting me. I have a lot of people who care about me. Friends wished me luck. People prayed I could do it like they have prayed for me many times. I passed and celebrated afterwards with friends and family. I called all my friends and family and told them I passed. My sister and mom cried, they were so happy!
Michael says to encourage others:
Get all the information you need. Look on the internet. Use flashcards, I got mine on the internet. Drive in the country with no traffic. Practice with a parent and learn from mistakes. Don't be hard on yourself. Ask a parent what to do or ask grandparents. Use chalk on the sidewalk to learn how to parallel park and keep practicing. I believe in you! I know you can do it!